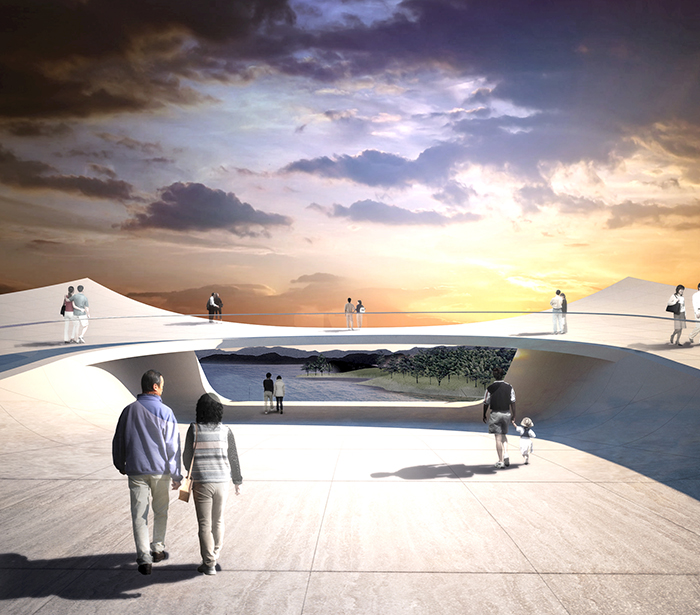 New Rochelle Waterfront Gateway Design Competition
, hosted by the city of New Rochelle, seeks creative design of the area consists of several land parcels on Echo bay.
Our entry was one of four projects selected for the second stage, however we declined from the competition because we couldn't find and weren't offered any developers to team up with altough the competition organizer told us that they would provide a list of possible developers after the first stage.
Following is the design brief of our proposal:

The main issue of the competition was how to deal with the existing armory building built in 1931. There has been a great amount of concern among people in the city of New Rochelle that the armory would be demolished due to a development of this area. According to an existing schematic plan for this area by a developer of a land parcel next to the competition site, the armory is almost treated as a nuisance, underutilized, and a car parking area placed between the armory and the shore completely disconnects the relationship between the bay and the urban fabric.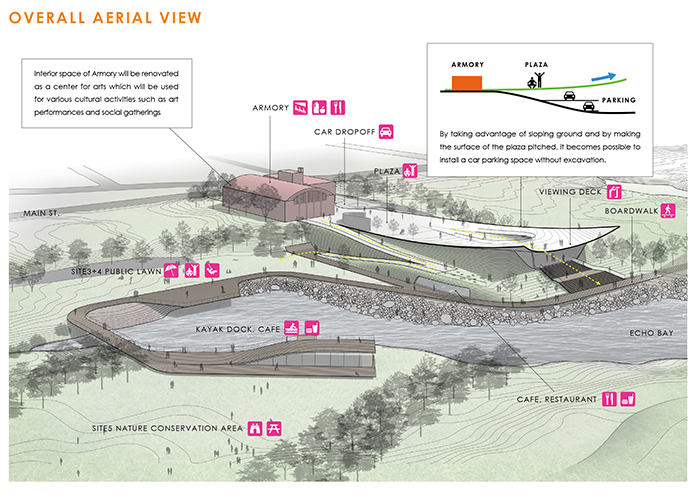 Our proposal "Echoing Plateau" focuses on how to re-connect the sea shore environment of the site to the urban fabric, not by demolishing the armory but using it as a catalyst. Being respectful to its historical and social importance of the Armory, the design of exterior facade of the building will be restored to its original state while the interior space will be renovated as a center for arts which will be used for various cultural activities such as art performances and social gatherings. "Echoing Plaza", a slab extending from Armory towards the bay provides a space for outdoor events, viewing point and an access to the boardwalk which extends and connects the adjacent sites. "Echoing Plaza" enables to place car parking space underneath without disturbing the view towards the bay and with minimizing an amount of excavation by taking advantage of the sloping landscape.